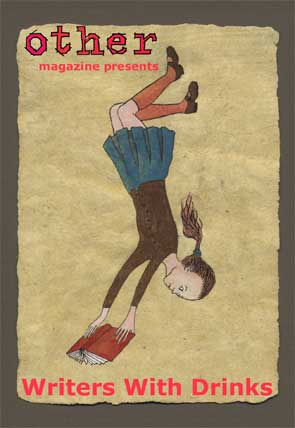 Image above by Audrey Niffenegger
It's inspiring to see the curators of longstanding shows still excited about what they're doing--but of course, their excitement is part of what makes their shows longstanding. Every month for over a decade, Charlie Jane Anders has assembled an unpredictable combination of sci-fi, comedy, fantasy, erotica, and other forms of literature into a show unlike any other, Writers With Drinks. -- San Francisco Weekly, March 2014
Part of what the audience has come to hear is Anders herself: Her introductions are the stuff of local lore. As novelist Jonathan Lethem tells me, "Charlie Jane always goes a step further." — San Francisco Chronicle, 2014
BEST VARIETY HOUR - 2013 -- Our host, the astonishingly vivacious Charlie Jane Anders, writes about science fiction for io9.com. But Charlie doesn't hold with genre limitations. WWD features writers from all walks of life ... although sometimes you have to check their websites to figure them out, because Charlie's brilliant and hilarious introductions are also highly fictionalized. WWD is practically an institution: It's been running since 2001. -- San Francisco Weekly, "Best of San Francisco" Issue
When you move to San Francisco and ask about the literary scene, Writers With Drinks is likely the first thing people tell you about. For one thing, most of us can get behind drinking as a social activity, especially when it's being done by the witty and verbose. But the real reason is host Charlie Jane Anders, who is a pioneer and master of free-form and fictitious biography. -- San Francisco Weekly
Back in 2001, writer Charlie Jane Anders set out to create a new kind of reading that jettisoned the idea of a hushed audience hanging reverentially on each carefully-crafted word, replacing it with a lively cabaret night drawing writers from a smorgasbord of genres--poetry to sci-fi to comedy to kids books. On a recent evening, heavyweight storyteller Tobias Wolff mixed it up with slam poet Taylor Mali, New York Times bestselling novelist Lev Grossman and NPR contributor Andrew Lam. Since San Francisco doesn't slack when it comes to local and national celeb authors, Writers with Drinks often sparkles with names like Lemony Snicket, Armistead Maupin, Andrew Sean Greer, Ayelet Waldman, Vendela Vida and Michelle Tea. So stop in, listen to some fierce words, and chase it with stiff drink. -- JetBlue.com.
Variety is more than just having sex dressed as Alien Greenspan every once in a while. It's more than occasionally cosplaying as Yeoman Ayn Rand instead of Slave Leeloo. It's also a Literary Imperative! Which is why Writers With Drinks combines erotica with literature, stand-up comedy with science fiction, and poetry with essays. Plus mystery, romance, memoir, rants and "other."
All proceeds benefit local non-profits. Charlie Jane Anders MCs and vamps.
Upcoming events:
Saturday, March 14, 2020:

CANCELLED
This event is cancelled due to health concerns.

Saturday, April 11, 2020:

CANCELLED

This event is cancelled due to health concerns.

Past Events
For more information, contact Charlie Anders
.